I remember when I started affiliate marketing years ago. I used to do everything manually with very basic tools like Microsoft Office and Paint.
While there is nothing wrong with that, it slows me down a lot. I was like driving Ford while every successful affiliate marketer was driving a Ferrari.
Tools are the affiliate extensions, they make you stronger and smarter. So I decided to dedicate this post to all the affiliate marketing tools that either my team or I have tried.
I keep updating it on a monthly basis to make sure you get the most updated affiliate marketing tools.
It is founded by the same people who are behind STM Forum. It is the first website to specialize in affiliate marketing jobs. They have really big names there like ClickDealer, Shape, and others.
I quote Charles NGO: "Affjobs is Literally the Easiest Way to Hire in the Industry."
---
This is my go-to market place to buy domains. Here you can find thousands of expired domains. Some of them have a good backlink profile.
I even bought my blog's domain AffiliateGhost.com on it.
---
NameCheap
NameCheap is my inventory for pretty much all the domains that I have. This is usually what I do: I go to ExpiredDomains, find what I like and then buy it through NameCheap.
What is the best thing about it? The free 1-year WhoisGuard. I love it.
---
You probably know it already. CloudFlare is a Content Delivery Network (CDN). It is really important when you run campaigns internationally as you do not want to buy a server in every country you run a campaign in!
They have a free version, and it is the best CDN I've tried so far.
---
"AdBeat covers 26 different countries and 90+ ad networks." - Stefan Maescher. I have used it mainly for Native ads. They have a big inventory. You can search any device and operating system as well.
One downside though is the price. It starts at $249 per month.
---
They claim to scan over 11 Million campaigns every day. Pretty impressive. The best thing is that you can request a free one-to-one demo to see their platform.
Take it! Because why not! You'll have to contact them anyway to get a customized price based on your needs.
It is not called biscience.
---
AdMobiSpy
The best thing about this spy tool is the price. You can get it for $38 per month; however, they have 3 main subscriptions. The more you pay, the more inventory and features you get.
It is mainly pop ads and VK.com (the Russian FB version).
If you are a beginner, this is probably a good tool to get your feet wet and start learning how to spy.
---
AdPeriscope
If you are in Adult advertising, this is a very cool tool for you! They cover 56 countries, 8 ad networks and 152 mobile carriers.
According to AffLift, the people behind Anstrex are the same people who are behind AdPeriscope.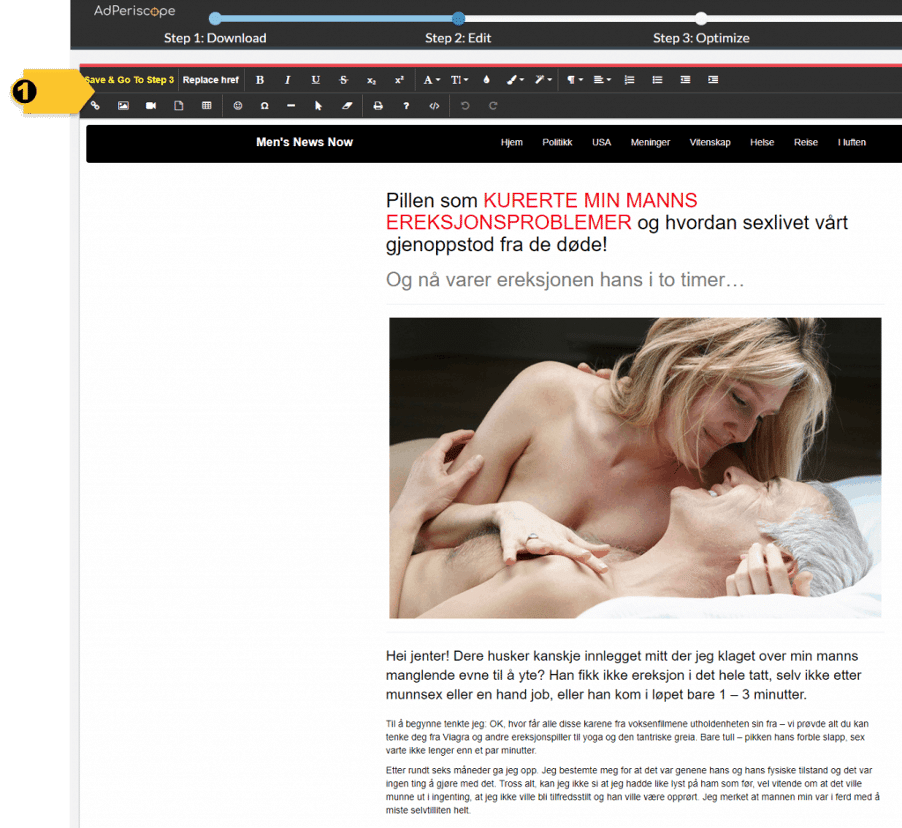 They have one subscription only, which is $89.99 per month.
---
Adplexity
I honestly don't know where to start. I could easily write a 10K-word review about these guys! I have no idea how someone can build such a sophisticated and successful spy tool!
They have 7 different versions:

I have tried all of them except the API version. There are hundreds of reviews out there which take you through the whole platform.
For example, Charles Ngo is also a big fan of this tool and has written a blog about their recent e-Commerce one.
If you are an STM Forum user, you will automatically get a discount.
Otherwise, you can use any of the following codes to get up to 35% off.
Adplexity Mobile: AffiliateGhost_M
Adplexity Desktop: AffiliateGhost_D
Adplexity Native: AffiliateGhost_N
Adplexity Push: AffiliateGhost_P
Adplexity e-Commerce: AffiliateGhost_E
Adplexity Carriers: AffiliateGhost_C
I do not have a discount code for the API one – sorry. :(
---
It is the sister company to Adplexity. It has the same spy function but for Adult campaigns.
You can use this code to get up to 35% off: AffiliateGhost_A
---
AdsBridge
It is a good choice for a tracker if you are starting out. They have 4 plans varying in price from $29 to $379.
Servando Silva has written a step-by-step guide on how to set up AdsBridge for the first time. It is worth reading.
---
This one focuses solely on Facebook ads. It is one of the very few Facebook spy tools that has not been shut down, sold or just disappeared.
It has been functioning for years. It has only one plan at $249 per month. However, Charles NGO has a discounted price through this link at $175.
---
This is a Native spy tool, has been around for over 3 years and is growing. It covers 19 countries and 13 networks.
The price is $97 per month; however, you will get coupons worth $2,300 in Native ads networks! You cannot get a better deal than that!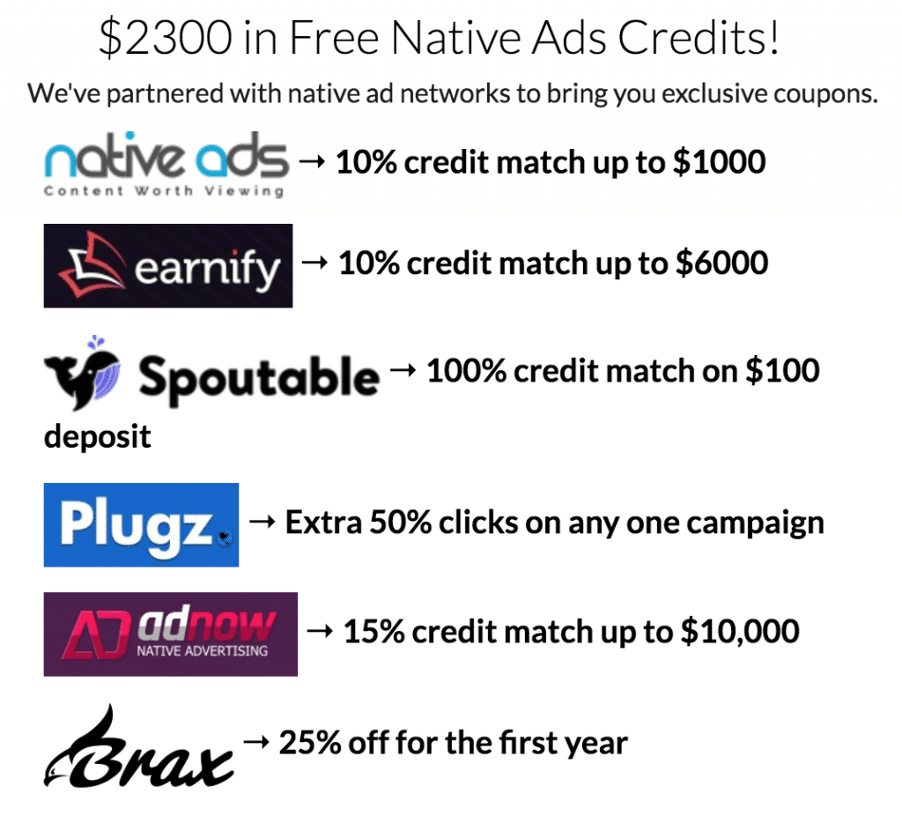 ---
AffLift
It is an affiliate marketing forum. I personally have a lot of respect for the founder Luke Kling, the same guy who started lukepeerfly.com.
AffLift has a free plan where you can access obviously free content in the forum, and then a $29 monthly plan where you can access premium content.
He could easily charge more like other forums, but he keeps it affordable because he cares about beginners a lot.
My advice is to go and sign up now. There are tons of step-by-step guides and case studies.
They also have tons of discounts for many tools and courses, so enjoy!
---
If you are doing any SEO affiliate marketing, Ahref is indeed a must-have tool. I have been using it for 5 years and I love it.
It is the best in giving backlink analysis to any domain and what are the top pages, keywords,..etc.
It has a very sophisticated system - it crawls over 5 billion webpages everyday! It will help you find new content to write about and also suitable keywords to rank.
It will show you opportunities to steal your competitor's backlinks:)
In short, I am a big fan. :) And I think every SEO and affiliate marketer should be too!
---
Anstrex
It is one of most popular spy tools for Native. I personally know many people who love it. I did not used to be a fan because it was usually out of date.
However, recently, they have updated their platform and added a spy tool for push notification too.
They've gotten a lot better now. If you are starting out, this is a good solution for you as it is cheaper than most of the spy tools.
---
AWeber
It is one of the email marketing tools that I use at least once weekly. It has a good delivery server.
It usually runs a free trial for a month to try the system. I advise to give it a try.
I can describe AWeber in 3 words: best customer service!

Try AWeber free for 30 days! - AWeber Communications
---
I use BBEdit to edit all my HTML pages in MAC. I love that it categorizes the code automatically; it places it in an easy way to read. Not to mention the beautiful color.
I am not a developer by any means, but BBEdit makes me feel like I am a genius. :)
If you use MAC, give it a try. Their moto is literally: It doesn't suck.®
If you are using Windows, you can just google BBEdit alternatives or buy a MAC. :)
---
BeMob
I have not used this tracker before. I am including it here because one of my students told me about it.
I have done some research and found legitimate people in the industry speaking highly about it.
Luke from AffLift also loves it and wrote a case study about it.
It provides a 30-day free trial and then starts from $25/month. This is of course a good option if you are short on cash.
---
It is a blackhat Facebook tool. It shows you most of the recent blackhat campaigns that are cloaked on Facebook.
This spy tool runs different to any spy tool I have seen. You can only search by vertical - for example: Casino, and then it shows you all the BH campaigns for all countries under this vertical.
The signup is by invite only. You can try to email them at admin at bhspy.com or comment below so that I can introduce you.
---
A super fast tracker at an affordable price.
Although I am not a big fan of self-hosted trackers, if you understand servers, this is a perfect solution for you.
It also helps you to deploy your server and install Binom free. If you fancy to see a live demo, here you go.
It has a 14-day free trial and then starts from $69 per month.
---
This is probably one of the oldest URL-shortening tools even before Google's.
It is used simply to make your link look prettier so that your campaign link does not look like this.
https://affiliateghost.com/hasydhasd/hasdsadsadggdasd/asdkajahdas7.sdsd334.sdsdsdahasdasd.asdasdahsduuererer/erewehrwher
It is also important to mask your links so that not everyone knows what you are doing. It is used by big players like Nike and Disney too.
It has free and paid versions, and I believe it is a must-have tool. No one likes to click on ugly links!
---
Brizy
It is the #1 product of the day at ProductHunt. Very easy to use. No coding required.
There are tons of landing page tools out there, but Brizy is different as you can literally get a landing page from scratch to cloud in 1 min.
It has a cloud solution where it hosts landing pages. You can also use its WordPress plugin to create as many pages as you want.
You can choose to use its domain or your custom one.
The best part is the hundreds of ready-made templates it has for lead generation, video, webinar,..etc.
It usually has a free trial. Give it try. Nothing to lose.
---
The first time I tried BuddyAd was early 2017. It was a very basic Spy tool back then. Now it has really advanced.
It spies on Pops, Native and Adult. You can easily find what website and placement the campaigns are running, so you can steal the whole funnel.
It spies on 14 countries currently and all the major traffic sources such as Taboola, RevContent, Outbrain, MGID, PropellerAds, ExoClick and many more.
It only has one price plan at €97 with a trial period of 7 days.
---
BuilderAll
This is what I call All-In-One. I like it a lot. It is a set of tools integrated very smoothly together to provide everything you need to build, promote and market a landing page or an entire website.
From themes, email marketing, SEO, funnel builder, SMS marketing, social media, etc. Literally everything you need.
It has 2 plans: Essential ($29.99/month) and Premium ($69.99). It is a very cost-effective way to build and grow your website.
---
If you do any kind of content marketing, BuzzSumo is a must.
You can find what is trending right now, influencers to help you grow, and people who are likely to share your content!
I used it a few times on a weekly basis to find out what is hot right now and what my next blog should be about.
---
Camtasia
I use Camtasia everyday. It is my main tool to create and edit videos. It is such an easy tool to use and works on MAC and Windows.
In a couple of mins, I can add a lot of effects to a video, cut part of it, add another video on top of this video, and add images and music.
You do not need to do any kind of coding or spend hours editing.
You can also export in any form you like. I do Snapchat ad a lot using Camtasia.
The best part about it is its one-time fee of only $249. That's it, no hidden cost and no monthly subscription.
They also have a 30-Day Money Back Guarantee.
---
By far the best free and easy image and creative editor out there. You can do anything in the image using Canva.
They have a ready-made template for pretty much anything you need.
From YouTube Channel Art, Facebook Post, profile photo, Twitter, Blog, Logo, presentation to any customize size and template you want.
Canva is on my favorite list for creative tools, and it's free!
---
ClickFunnels
It is probably the most successful funnel tool ever. It has millions of monthly users.
It is everything you need to build any funnel. You can buy a domain and hosting and create pages and links between them and then add lead generation.
They also integrate with all famous guys like Zapier, PayPal and Strip.
They have a 14-day free trial. GET IT NOW!
---
ClickMagick
It is a tracking tool for your affiliate campaigns, like Voluum and FunnelFlux.
It has very cool features like dynamic subids and tracking pages you do not own! My favorite is to add a popup on any page.
The best part is that the price starts from $27 to $97 per month. All plans come with a 14-day free trial.
---
Are you a blackhat person? If yes, you definitely cloak.
I see many people recently claiming that blackhat is not working anymore! This is just non-sense.
BH is working and will always be, you just need to adapt with the big guys update.
You can use cloakerly to run, for example, casinos and crypto offers on Facebook!
Or you can use it legitimately to filter bot or bad traffic out of your campaigns.
---
The infamous Content Delivery Network (CDN). It a free tool that will distribute a copy of websites all over the world for faster loading.
In case you don't know what CDN is, watch this video:
---
If you are like me with a few servers to manage but no technical knowledge, and you also don't want to spend hundreds of dollars on someone else to manage them,
--> then you definitely need Commando.
It is the easiest way I've found to execute all kinds of commands on your server.
It integrates with all of the famous server providers, such as Vultr and DigitalOcean.
---
DigitalOcean
You probably have seen its ads everywhere online. Every blogger recommends it. To be honest, DigitalOcean is good, and I use it too.
It is a hosting company where you can get all kinds of hosting, from WordPress and shared hosting to VPS and dedicated servers.
The best feature it has is Droplets. It is like scalable mini servers. I have like 100 of them so far. It is available globally too!
The best part, it starts from $5 per month!
Use the link below to get a $20-$50 free coupon.
---
It is literally the best place I know to find expired domains.
I don't understand why people purchase new domains when they can find domains with backlinks and domain authority!
I love their search filter where I can find, for example, domains that have a certain DA and are 10 years old!
If you want to rank faster, definitely get an expired domain.
In most cases, it costs only $10! I highly recommend reading this post to learn more about the benefits of expired domains.
---
It claims to be the #1 leader in VPN. It is pretty good. Like most VPNs nowadays, it works on all devices and OSs.
I like it because it is not blocked and detected by many websites like other VPNs. It also constantly changes its servers and IPs.
I usually get the yearly subscription because it is as low as $8.50 per month.
---
Fiverr
It is probably the biggest outsource marketplace for services. The quality varies drastically here, so take your time to find the right candidate.
This is where I usually hire ad-hoc services - for example, I want quick help in setting up a server or got a stuck on a WordPress plugin installation.
Also, it's useful for repetitive tasks, like answering emails or reaching out to people.
---
Follow.net
You want to know how much your competitor spends on ads? How much traffic they get and from where? Follow.net will definitely help you.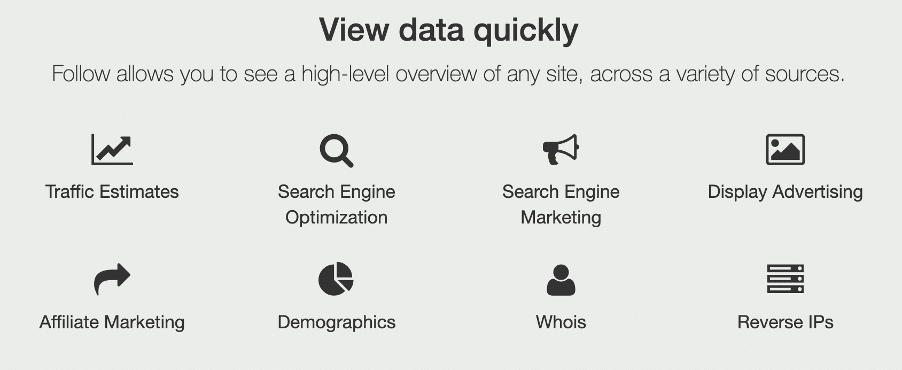 Simply put any website URL and you will get all the metrics about it - a bit scary. It starts at $97 per month. Totally worth it.
---
Unfortunately, if you are doing paid advertising, you are paying for bots and bad traffic. In some of my native campaigns, the bot traffic reached 30%. That's 30% of my budget going to NOTHING!
Use a tracker like Voluum or FunnelFlux, and you will see that.
How to solve this problem? Use traffic fraud prevention, like FraudFilter. It screens every visitor using hundreds of data points to determine bots.
You can then use this data to claim cash back or credit from your traffic source and to filter those bad placements.
It costs $199 per month, and you should get it especially if you are doing native ads.
---
FunnelFlux
It is a super interactive tracker. The easiest user interface you can find. The funnel/campaign builder is so visual that I keep building funnels the whole day. I simply love it!
I wrote a how-to guide to show you all the pros and cons. You can also try it and save $75 if you want.
The people behind this tracker are the same people behind the STM forum. So they definitely know what they are doing.
---
GetRGetResponseesponse
This is where the magic happens for me. It is probably a tool that needs no introduction; they already have millions of customers around the world.
I use it mainly for the automation feature. As you can see, it is very visual and easy to use.
What I love about these guys is that they are also affiliated friendly. They never ban me from sending affiliate links like other email marketing tools.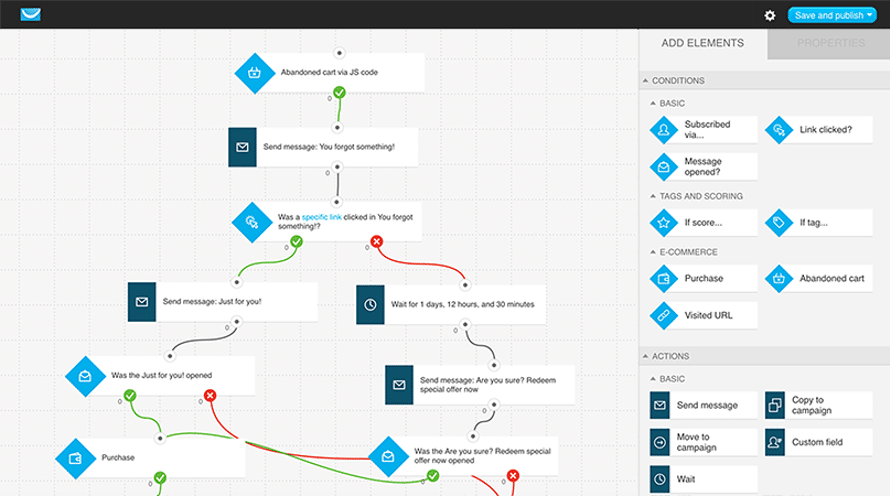 ---
Grammarly
As advertised; if you type anything on a computer, you need Grammarly. I literally do not send any important email without run it through Grammarly first.
The best part is they have also released mobile apps FREE!
They have 3 plans: free, $11.66, and $12.50 per month. My advice will be to start with the free account first and then upgrade as you go.
---
I am kind of obsessed with this free tool, It measures the speed of any URL. I cannot stress enough how important the page speed is in affiliate marketing.
People literally have no patience to wait more than 2 seconds! Otherwise, they will just leave your lander, and you will still have to pay for that lost click.
So use this tool to determine your speed score and how you can make your URL faster.
I do not mean to brag but..

---
Hellobar
One of the many lead generation tools out there, it was founded by Neil Patel. It has a WordPress plugin for easy integration. The best thing about it is the full-page popup.
Have a look! It has a clean design, is fast and grabs users' attention.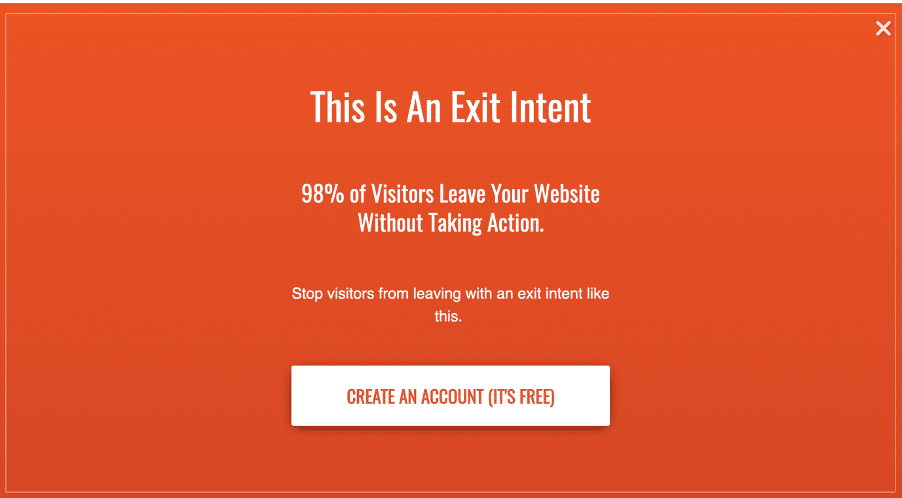 ---
InstaPage
I use InstaPage when I do funnels for social media and native. It's easy to build a page – I'm talking like 5 min! They also have a built-in speed optimization feature to speed up the page.
I personally find it quite affordable if you do a few campaigns every week or if you are like me and don't like coding. It starts at $149 per month.
Everything here is drag & drop.
---
InVideo
It scores 4.8 out of 5 on Capterra. It is probably the easiest way that I've found so far to make videos.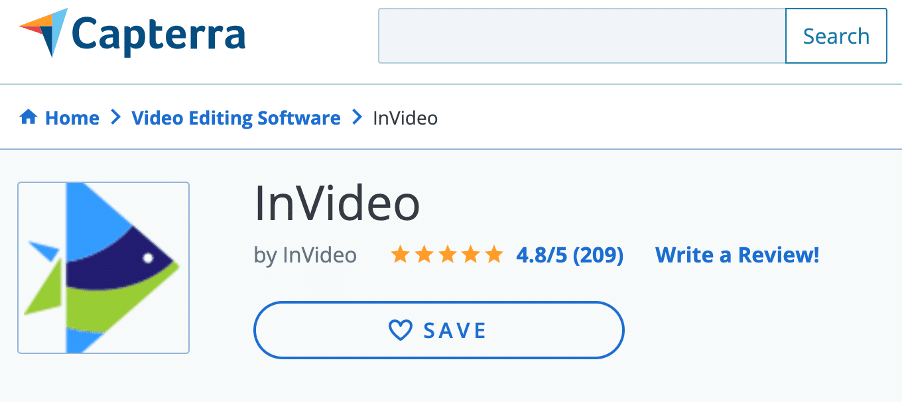 The best part about these guys is that they have a lot of templates. You just need to change the text or image/logo and you are good to go.
You can literally make a video in a couple of mins.
---
IPVanish
They have over 1,400 server locations around the world to choose from. As an affiliate marketer, I cannot live without a good VPN. I need it to see offers and manually spy too.
Read why every affiliate needs a VPN.
Do yourself a favor and get a VPN now. These guys have 30-Day Money-Back Guarantee.
---
If you've been in the affiliate marketing field for some time, you must have heard of the term "cloaking". It is when the blackhat guys (not me for sure, ahem ahem) cloak their campaigns to show platforms like Facebook an offer while showing the real users the naughty stuff.
Read a whole guide about JustCloakit to understand the underworld of affiliate marketing.
---
Kintura
I haven't personally tried it, but I know people who have said good things about it. It is a relatively new tracker. It claims to have no click loss (which is a great thing).
The best part I found is that it has a managed user's level for every account. This is very helpful when you start building a team and want to give certain access to everyone.
Oh and one more thing, it has a FREE PLAN! So if you are starting out, GET IT NOW!
---
LanderBolt
It is made by affiliates, so you will relate the moment you see its dashboard.
If you use many landers like me, it can get a bit crazy to manage and host them, not to mention connecting them to a tracker!
LanderBolt does it all for me and also integrates smoothly with Voluum and other trackers. It also integrates with spy tools where you can steal landers to your domain in a couple of clicks. No coding, no FTP and no hassle.
It starts from $97 a month - totally worth it.
---
Landingi
It is a landing page and popup builder. It has one of the best deals for landing pages. It starts at only $29 a month for unlimited landing pages. And it offers a 14-day trial period!

If you are tight with money, this should be a good option for you.
---
I've gotta admit, this is a very cool tracker. It is famous for its automation and AI. Its tracker gets better and better with making your campaign profitable.
It is also quite cheap compared to other trackers on the market. It starts at $49 a month.
---
LastPass
I have told everyone I know about this chrome extension. It is the best way I've found so far to manage all my passwords, and it's free.
Most people use the same password for all websites. This is a recipe for disaster.
By using LastPass, you will get a new strong password for each website that you don't have to remember.
---
This is another cloaker for the naughty affiliates (not me, I follow the rules as you know). If you are serious about blackhat, these guys will help you.
It is not cheap though. It starts at $399 a month. Why? Because you can make s*** loads of money with it.
Zuckerberg has been trying to shut them down with no luck so far. They are the outliers of affiliate marketing.
---
LeadPages
I think this is one of the most helpful landing page tools out there. I can assure you, it has exceptional customer support. Pretty much 24/7.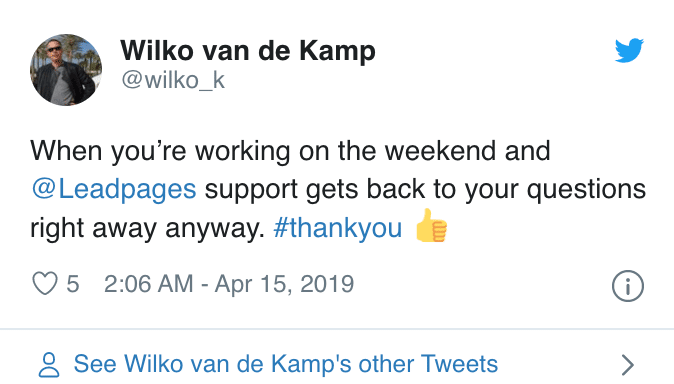 It starts at only $25 a month and 14-day trial! Give it a try! It has a ridiculous number of ready-made templates for all kinds of needs.
---
I use it a lot to create quizzes like this one. It is highly converting and people love to answer questions this way.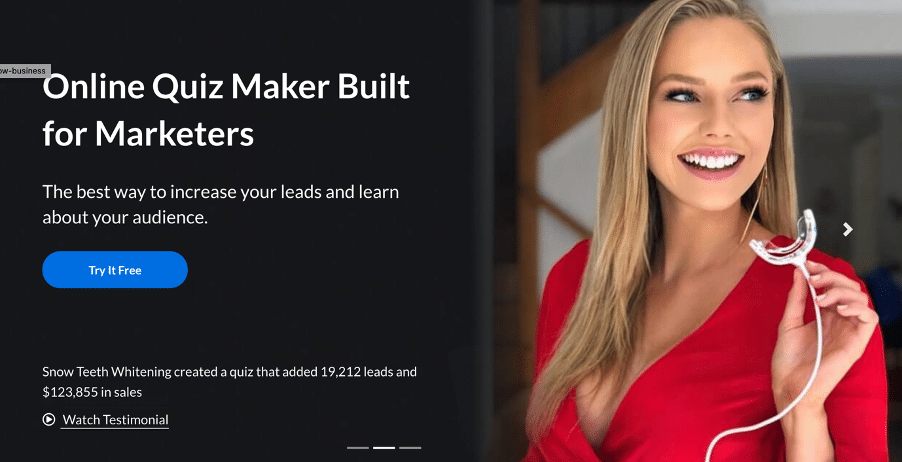 It starts from $37 per month in the annual plan. I honestly think that is cheap for the 30% conversion rate!
It has a 14-day free trial. Give it a try, and you will see for yourself how cool the quizzes are. It has ready-made templates to choose from.
---
I will give you some advice. If you do Facebook ads blackhat, you really need MagicAdz.
It is a spy tool that will show you what is working on Facebook right now, no guessing. It is real data.
Highly recommended, it has quite a few plans. The cheaper one is $99 per month. It also has great customer support. It can show you a demo and teach you all the tricks free of charge.
---
It is really a cool tool for chatbot. I use it to build my list through Facebook. Yes, email lists are not enough anymore.
It has a free course (which you should take now) on how to build chatbot lists and promote offers to them.
It also integrates smoothly with SMS and email. It is pretty much all you need to retarget your audience in many platforms using 1 tool only.
It is ridiculously cheap - $10 per month, and they have a FREE plan too!
---
Nothing will upset your audience more than a website that does not function well on their devices. Come on – it's not 2011 anymore.
It is a 100% free service - just enter your URL and choose a device and BOOM! You will see exactly how your link will appear on that device.
It is a MUST test before starting to pay for clicks on your campaigns.
---
MySafe.Site
If you are running anything on Facebook, you know that you need a safe site that Facebook views as good enough to be shown on Facebook.
It can get a bit hectic when you run multiple verticals because every vertical will require a separate site.
MySafe.Site solves this problem. You just tell them what vertical you want, and they will build an entire WordPress site and host it for a few dollars.
I used them for over 2 years, and they have outstanding Skype support.
Seriously, do not get banned by Facebook and get a safe site from them - they know the whole game.
Put the code: Zidan in the referral code to take 5-10% discount and to get accepted without a review process.
---
NameCheap
Probably too big to be introduced. I buy and register most of my domains through NameCheap. Why? Because they give 1 year WhoisGuard to everyone.
You need this when you are an affiliate. You do not want people to look up your name and find all your websites and verticals you are running.
They have an amazing UX and great customer support.
---
A very convenient spy tool for native. The price starts at $47 per month to spy on the two main native networks (Outbrain & Taboola), or $97 to spy on 10 platforms.
It has an option to start at $7 for 7 days. Really cheap. If you are doing native, it is worth giving it a shot now.
---
Here's another cloaker. You can't just sign up with them; you have to send them a message via Telegram asking to sign up first, and then they will help.
I personally have not used them, but I added them here because my best buddy at STM forum used them for a long time, and I trust him.
---
NordVPN
These guys must spend millions on advertisements every month. I see their ads everywhere, not to mention their affiliate offers too.
Through them you can pretty much find a server in any country you want. I use them for personal use as well for darkweb. It works well.
---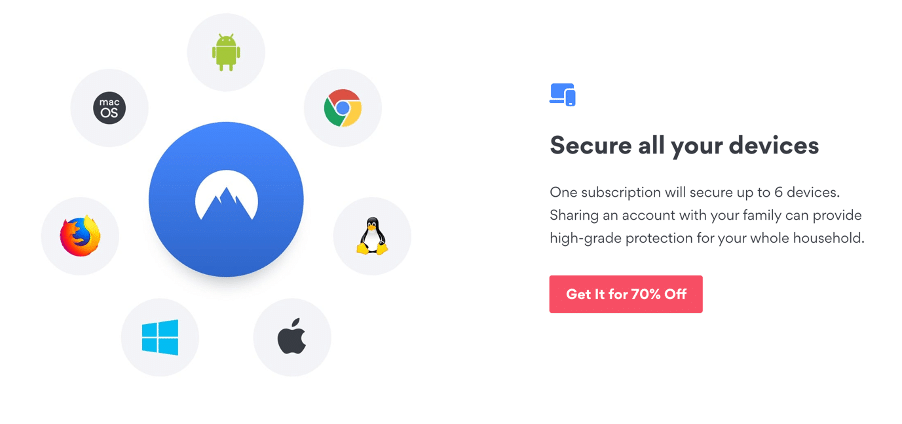 Look at their offers on the home page because they usually run a good yearly deal every now and then. Right now, they have 70% off!
---
This is an HTM editor for Windows. It is clean and very easy to use. If you are on Mac, you should download BBEdit instead.
---
OneHourTranslation
I run a lot of campaigns on Asia and Eastern Europe. I know no languages over there.
What do I do? I use OneHourTranslation service to translate whatever I want from creatives to landing pages into any language.
Using Google Translate is a horrible idea, and you will sound like a robot!
I usually get the job translated within a couple of hours for a few bucks.
Be professional, not an amateur.
---
I use it to collect push subscribers. If you still are not building your own push list, you are missing a lot!
It is a free tool (there's a paid version too) that you can use on any website to collect push subscribers.
---
It is another Facebook spy tool but a private one. It only accepts people via invitation from existing customers. I do not blame them - Facebook is going hard on companies like this.
You can join their waitlist here: https://onlineadspy.com/private-invite.php
---
Onlinejobs.ph
This is where I hired my VA, along with a few members of my team. You post the job (whatever it is) and you will find someone to hire (whatever quality you are after).
All candidates are from the Philippines and are very affordable. Highly recommended.
Make sure you do a video/audio interview first before hiring them.
---
This is another good tracker for affiliate marketers. The best thing about it is that it has a $0 plan, and you will get 100K events for FREE. The next plan is $99 per month, and you get 30% off an annual plan.
---
I do not use it that much as I now have a team doing most of the design for me. However, I believe knowing how to design or at least change your creatives through photoshop is an important skill to have.
It can be quite hard for some people (like me), so you can look at an easier tool but less in-depth in this post.
---
Here is some advice you should take: never put a lander up without testing its loading speed first. We are living in the millennial era at the moment.
Do you know what that means? No patience!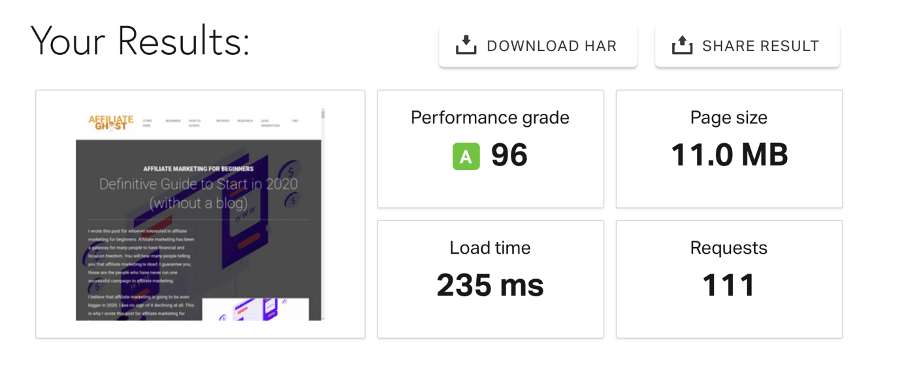 Make sure your page score is at least 85%.
---
PowerAdSpy
It is a spy tool for Facebook, Instagram, YouTube, Google and Native.
It is probably the only spy tool I have ever used that has a FREE permanent plan but obviously with a very limited number of searches.
It also has an adult version.
---
As they say, Pretty Links helps you unlock more affiliate revenue from your existing content.
It makes it so easy to manage, shrink, cloak, and track all the affiliate links for your campaigns or blog if you have one.
Get organized and save all your links in one place!
Use this code to get 50% off: WELCOME
---
Promo.com
If you do Facebook video ads, Snap ads or TikTok, I think this is a must-have tool. It is a really easy yet powerful tool to produce cool, funny and unusual videos.
Look at this one for example:
https://promo.com/templates/video/-caturday-?aspect_ratio=vertical&category=facebook
Its price starts from $39 per month up to $359 per month.
You can create tens of videos in less than 1 hour - pretty good return if you know about video marketing.
---
PureLander
I personally know the founder of PureLander, and he is a really cool and creative dude. He built it to help affiliates create pre-landers quickly.
He has a big store of updated pre-landers that you can just use, and without any coding you can add features like exit pop, disabled back button, count down, mobile vibration and much more.
You will love it, trust me. I also think it is very affordably priced - it is only $25 per month!
---
Hear me out on this: YOU SHOULD BUILD YOUR PUSH DATABASE. It is THE hot traffic source right now and is not widely used yet.
Here is a tip: build your audience in tier 3 and thank me later.
They have a free version, which is more than enough for you to get started.
---
RedTrack
This is the favorite tracker for my buddy and super-affiliate, IAmAttila. Relatively new in the market but has done really well in attracting affiliates.

It constantly adds new features - the best one added so far is Bot Detection. Believe me! You need this feature when you do affiliate marketing. Especially in pops and native, there are a lot of bots.
Plans start at $41 per month for 1M clicks. It is the best value you can find with such features and a powerful tool.
---
It shows you everything you need to know about your competitors. You can get an offer link or a good performing landing page from Adplexity and put it here. And then watch the magical analytics flying around you.
Although it is expensive - the lowest plan starts at $199 - it is totally worth it if you want to know exactly how super-affiliates are making tons of money from their campaigns.
---
The German native spy tool, super powerful platform. You can also request a free demo (which I recommend) with their team to take you through the whole thing.
They have testimonies from a lot of super-affiliates on their homepage. Their plans start at $149.
Sign up here only if you know how to run native; not for newbies.
---
This is a push spy tool. It has a huge inventory of 95+ countries and 2M ads.
If you are starting out, this is a perfect push spy tool for you. It has one fixed price, which is $49 per month.
You can also try it out for free, where you will get unlimited access for service to 5 countries for 24 hours: France, Germany, Indonesia, Thailand, and Vietnam.
---
SPYTEG
This is an adult spy tools for native, video ads and banners. It has a clean design and easy to use interface.
You download creatives and landing pages with one click. It has two main plans: $149 and $299 per month. However, you can request a free demo, which you should try before you pay.
---
This is also known as Stack That Money. It is not a tool, rather a community that I believe every affiliate marketer (especially beginners) should join.
If you have any questions about affiliate marketing, chances are someone has already asked it and got it answered before there.
It costs a flat monthly fee of $99 and is worth every penny.
---
Nothing sucks like working your ass off on a website, which then gets hacked overnight, banned by Google and just vanishes from the world.
I have been there and hated every single second of trying to retrieve it and get it unbanned from Google, which took 4 months!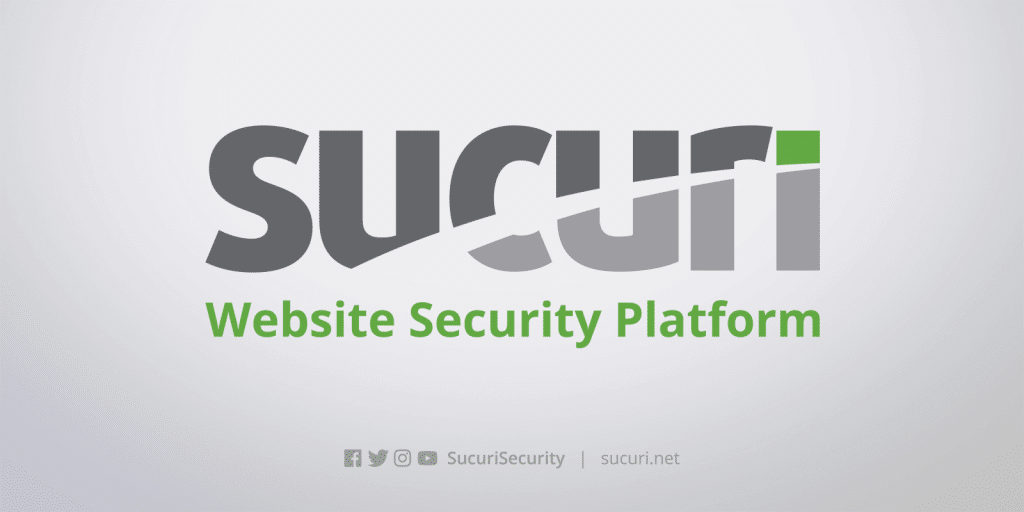 Since then, I use Sucuri for all of my websites. I hand the website to them, and they take care of all the security – monitoring it on a daily basis and taking any necessary actions. It starts at $199 per year.
---
It is used by over 860,000 sites so far and started by the same guy who founded AppSumo.
It also claims to be the #1 Free email capture tool, which does not surprise me.
It is a little code in your website, and then you have lead generation tools, social share and much more.
Yes, it is free and has a paid version with more features if you fancy.
---
The Optimizer
This is literally how to make the internet work for you. You set some rules on your campaigns and The Optimizer will optimize your campaign accordingly.
You don't need to keep checking and changing creatives and adjusting the bid. Just set and forget.
It works with push, native, pops, and display. The price depends on the platform.
---
I actually use this plugin on this blog. It is a free and handy way to manage all the affiliate links I use on this blog and cloak them to look beautiful.
I do not use it on my pre-landers though as it is meant for bloggers who do affiliate marketing on their blogs.
If you use WordPress, download it and install it now for free.
---
Conclusion
Now you have seen a lot of affiliate marketing tools, do you have a question about any of them? Have you tried some of them already? Let me know.