Introduction
What You Will Need to Follow This Tutorial
As the number one retailer in the US, Walmart is a trustworthy online merchant that doesn't generate resistance for customers to purchase. Thus, it can be much easier for you to advertise and earn your commission.
Generally speaking, it is extremely easy to join the Walmart affiliate program. Below, you can find a detailed explanation of each step of the process.
By joining the Walmart affiliate program, you will make an arrangement with the online merchant to send traffic to their website and therefore earn a specified commission for each successful lead.
The Walmart affiliate program is managed by Impact Radius, its affiliate service provider. And unlike other affiliates, it is not as difficult to get accepted into the Walmart program.
To join the Walmart affiliate, you will need:
A website that does not promote sexually explicit material, illegal activities, etc.;
Personal information, an email and a password to fill in the application;
An explanation of how you will be representing Walmart products; and
Bank information where you plan to receive your withdrawals.
You will not need to make any monetary investments.  Usually, Walmart's approval process does not take more than 24 hours. And once you are accepted into the program, you can generate your ads and start the campaign.
Step-By-Step Guide
to Succeed with Walmart Affiliate
Step 1 – Become a member
First, you need to visit Walmart's specialized site for affiliates, Walmart Affiliate Link.
Here, you can find a brief explanation of the affiliate process, a possibility to log in or become a member.
There are several issues that you should consider though before you enter the Walmart Affiliate Program.
Walmart Products, Commission Rates, and Payouts
As an affiliate, you should recognize two issues: whether the merchant's products are compatible with your niche or website, and how much you can earn from the program.
When it comes to Walmart's assortment, the company offers a huge variety of products, including the most popular categories such as Fashion, Furniture, Electronics, Kitchen Appliances, Outdoor Sports, etc. Thus, you will be able to choose products unique to your niche, as well as trending or top products from Walmart's site.
Unlike the Target affiliate program, Walmart offers more categories for affiliates; however, the Walmart affiliate program is based on product categories, each of which comes with a certain commission. Depending on the payout group, you can earn 1-4% of the item's sale amount, or $10.00 per item.
Once you review the products and appropriate pay rates, you can select the most suitable choice for your Walmart affiliate program. At this stage, as an affiliate, you need to perform a cost-benefit analysis. More specifically, make sure to check whether the investment in time is worth the return in a particular niche.
Here is the current category-based affiliate schedule of Walmart:
The main dilemma of affiliates is whether to choose the most compatible products with their niche or the highest-paying ones according to the category-based fee schedule. However, it is always better to focus on your audience. If you target a teen audience on your website, it will be useless to promote business products, no matter the payout.
Another important aspect is that the Walmart affiliate program excludes certain items, such as Apple products or household commodities from the commission. Hence, you will earn a 0% payout for these affiliate links.
The commission rate schedule is not as attractive as some online merchants. However, Walmart offers a high conversion rate because it appeals to a wide audience. This means that you can easily promote products from diversified niches. More specifically, you can earn higher profits than you would by promoting a less-known brand that offers higher returns.
What's more, the Walmart affiliate program has a three-day referral window and last clicks credit policy. For example, a customer has clicked on another website's affiliate link and reviewed a particular product on Walmart. However, s/he has not made the purchase. Within three days, the customer clicks on your affiliate link and buys the product. As the last click, you will get the reward or the commission.
Low Commission Rates Vs High Conversion Rate
As a potential Walmart affiliate, you are certainly asking yourself, "Can I make $1,000 per month from the Walmart affiliate program?" Even if you are not, most potential affiliates of Walmart are interested in the answer.
Simply put, "Yes, you can make $1,000 per month from the Walmart affiliate program." Yet, it won't be easy. As explained before, Walmart offers low commission rates. For example, if the merchant offers a 10% payout, you will need to sell 10 products worth $1,000 each to reach the goal of $1,000. Or, you will need to sell 1000 Walmart products with a commission of 1% to earn the same 1,000 dollars.
Now, even though it sounds unattainable, you should know that there are several tricks to facilitate the process. As previously mentioned, Walmart is a trusted brand in every generation. Hence, you will not need to do a lot of convincing or promotional activities. On the contrary, you should only remind customers of the possibility to purchase from Walmart.
The next thing that can facilitate your money-making from the Walmart affiliate program is a website with a lot of traffic. Thus, if you have several web pages, make sure to choose the most visited one for the Walmart affiliate links. Also, you can increase the conversion rate by including great reviews on the products advertised on your website.
Finally, you can target the product categories with the highest commission or returns; however, you must ensure that this assortment is compatible with your niche. You should also focus on product categories that have a large search volume yet are less competitive. If numerous websites are offering the same products, your conversion rate will decrease.
Let's do the math on a particular product from the 'Beauty' section. As noted in the referral fee schedule, this product category offers a 4% commission.
The 'Wahl Color Pro Plus Haircut Kit 79752T' is priced at $54.99. With a 4% commission, you will earn approximately $2.19 from each sale.
Hence, 456 people need to buy this product, to earn a profit of $1,000.
And here's where the conversion rate takes place. Remember that anything above 3% is a good conversion rate. So, let's say that you have reached a conversion rate of 4%. To sell this product to 456 people, you will need to reach 11,400 people monthly.
This is why it's important to choose attractive products with limited competition.
Do not be discouraged. In general, retail affiliate programs don't offer high returns for a single product. So no matter which brand you choose, you will have to make a lot of sales to earn significant profits. At the end of the day, a lot of people make their living through affiliate programs, so you can too.
👇 Read ahead to learn about two general strategies for the Walmart affiliate program or any similar online merchant in this sense. 👇
Niche Websites Vs General Websites
Several successful Walmart affiliates have shared their secret to success or high returns. To be more specific, as an affiliate, you need to make a great balance between the number and type of products.
In general, more products can increase the number of individuals you appeal to; however, choosing the right products can significantly increase your conversion rate. Thus, the perfect scenario is to find a niche with a higher commission and variety of products that apply to your website audience, or a niche.
A great strategy is to choose a product category with a lot of search volume. Then, you can find a subcategory that has less competition. This way, you can easily rank your reviews. Simultaneously, you will leave space for growth in the same niche. With time, you can add more products to your portfolio. Thus, you should think long-term but act short-term.
Also, you should remember that even three products can bring you lots of profits if you choose and promote them accordingly. An important tip is not to include any keywords in your domain name, as they limit your future expansion in new product categories. If you have already done so, it is better to build a new website to promote other assortments.
Apart from the niche strategy, you can also launch a general website. This way, you will be able to promote products from different categories without confusing your audience.
However, the general website will be far less convincing for your audience. People tend to perceive you as an expert if you constantly write reviews for a particular niche. So, if you choose a general website for your Walmart affiliate program, make sure to avoid products that require any expertise. On the contrary, choose everyday products that appeal to the wide mass.
A general website is especially appealing around the holidays when people are looking for gift ideas. Thus, make sure to feature funny or uncommon products as well. What's more, you will not have to do much. As opposed to the niche website, general websites don't have to include product reviews or constant updates.
Once you have considered the product assortment and Walmart affiliate returns, you are ready to continue onto step 2 👇 with the enrollment process.
Step 2 – Fill in The Application
Once you click 'Become a Member', you will be taken to the Walmart affiliate application.
Here, you need to fill in their secure form to qualify for Walmart's approval. The application consists of
User Information;
Company Information;
Promotional Methods;
Media Properties,
and Agreements.
Before you start filling out the application, you can select one of the 42 language options for greater convenience or better understanding.
Below, you can find in-depth information for each separate section.
User Information
First things first, you need to provide your personal information. More specifically, you should fill in your First and Last Name, email address, username, and password for the Walmart affiliate program. Make sure to review the requirements below each field to save some time and avoid confusion.
Company Information
In this section, you will enter all information related to your company as an affiliate.
The Account Display Name is how you will be presented to others. You can use your personal name or any other signature that represents your brand. Next, you need to enter your website from which you plan to advertise Walmart products.
Other requirements in the Company Information section include:
Primary country of operation;
Street address;
City, state, zip/postal code;
Time zone;
And phone number.
You will then need to provide information about your bank or the place where you wish to withdraw your affiliate earnings. You will need to select the country location of the bank, which will determine all available currencies, both for payouts and financial reporting. However, once you set up your account, you will be able to change your bank whereabouts at any time.
On the contrary, the 'Currency' setting is permanent. Once you select this field and it is approved by the platform, you cannot make any modifications. All finances will be calculated and displayed in these terms, so make sure to carefully consider your choice.
Promotional Methods
When it comes to promotional methods, you need to consider two issues.
First, you need to determine which Primary Promotional Method to use:
Email, Search Engine Marketing;
Loyalty/Rewards;
Coupon/Deals;
Syndication/Blog Networks;
CPA/Sub-Affiliate Networks;
Mobile, Content;
Shopping/Comparison;
Social Media/Influencer;
Service Providers/Tools, Consumer Software / Technology, Incentivized;
Offline, or Other.
Be sure to choose your top employed method as the primary one. Next, when it comes to the Secondary Promotional Method, you are once again offered the same possibilities; however, you are not limited to a single choice.  You can choose as many options as you like.
Another thing you can do in this section is to select one or more promoting countries. To do this, select 'Add Another Country'. You can repeat this step until you have added all the countries in which you will be promoting.
Media Properties
In media properties, select 'Website' or 'Mobile App' depending on the type of property you plan on using. Also, you need to enter the name of the property, a URL, and a Description.
Agreements
The final section or 'Agreements' consists of 'Online Sale' and 'General Terms.'
In the Online Sale section, there are specifications for the payout process, certain limits, a schedule, and qualified referrals.
Walmart pays out the approved transactions one month after they are locked. All actions are invoiced on the third of the month after they are locked; however, actions are locked two months after they are tracked. Thus, be aware of this waiting process and don't expect to receive your affiliate earnings instantly.
In General Terms, you can find all details related to the Walmart affiliate program. For example, the Walmart Standard Affiliate Agreement consists of more than 20 points, each of which specifies a certain process. Make sure to review all specifications before you accept Walmart's affiliate agreement.
Step 3 – Submit Application
Once you go through all of the above-explained steps, you are ready to submit your application.
Make sure to check the box, as shown in the picture. Then, click 'Submit Application'.
Step 4 – Wait for An Approval
Generally speaking, Walmart is extremely inclusive and accepts all applications. Thus, you will most likely be accepted into the Walmart affiliate program.
Step 5 – Start Your Campaign
Once you are accepted into the program, you are ready to start your campaign and generating ads.
However, Walmart doesn't allow for the use of social media for promotions. So, if you want to use your social media accounts, you will need to link them to your website where you are allowed to include the Walmart affiliates.
As an affiliate, you will certainly look for ways to increase your sales and profits. Here's where the Walmart affiliate tools come in handy.
Walmart Affiliate Support
Tools, Support and More
The affiliate tools of Walmart facilitate the process of finding deals, creating links and banners, and converting clicks into sales. We believe the affiliate marketing tools are the extension for affiliates and should always be used efficiently.
Let's go through them quickly together!
Walmart Affiliate SDK
Walmart SDK provides an opportunity to Walmart Affiliate SDK such as 'Buy Now'. Hence, you can strategically place this button next to the promotional review and motivate your visitors to purchase right at that moment.
Furthermore, the 'Buy Now' button is available in several formats, so it can be easily incorporated into your website design. You can also configure this feature to add the product directly to the cart on the Walmart website.
The key issue is that this feature shortens the buying process. Hence, you can greatly increase your conversion rates.
Walmart WordPress Plugin
Today, most affiliates use WordPress for blogging and product reviews. That's why Walmart has developed its WordPress plugin that provides banners and links to their products.
More specifically, you can add links and banners when you are writing the article. Besides, you can create links to search pages instead of specific products, which is extremely convenient to niche pages.
However, the WordPress Plugin has not been updated recently. You should note that out of date plug-ins may impose a security risk.
Walmart Chrome Extensions
The Walmart affiliate program offers two Chrome extensions.
The official Walmart Chrome extension is not related to a third party. Developed by Walmart, this extension can save you lots of time. More specifically, the Walmart Chrome extension allows you to generate links while browsing their website.
The other (unofficial) Walmart Deals Chrome Extension provides access to a variety of deals such as Bestsellers, Clearance, Rollbacks, and Special Buys. However, you cannot connect this extension to your affiliate account and generate links. It is a third-party extension, so it's great for quick browsing or previews.
Walmart API
If you are a developer or a power-user, you can also take advantage of Walmart's extensive API.
To be more specific, Walmart affiliate offers five distinct APIs: Datafeed API, Special Feeds API, Search API, Product Lookup API, and Taxonomy API, each with a specialized function. You can find a detailed explanation for each API on Walmart's affiliate website. Currently, the API is in beta and you can find it on https://www.walmart.io/
Walmart Affiliate Program vs. Amazon Associates
As mentioned before, Walmart can be a great substitution for the number one retailer in the world, Amazon. Yet, there are certain differences between these two online merchants.
First of all, Amazon applies to a far wider audience than Walmart. Initially, the Amazon Associates program offered higher commissions; however, things have changed with the new commission rates. Currently, the Walmart Affiliate Program pays higher commissions in most product categories.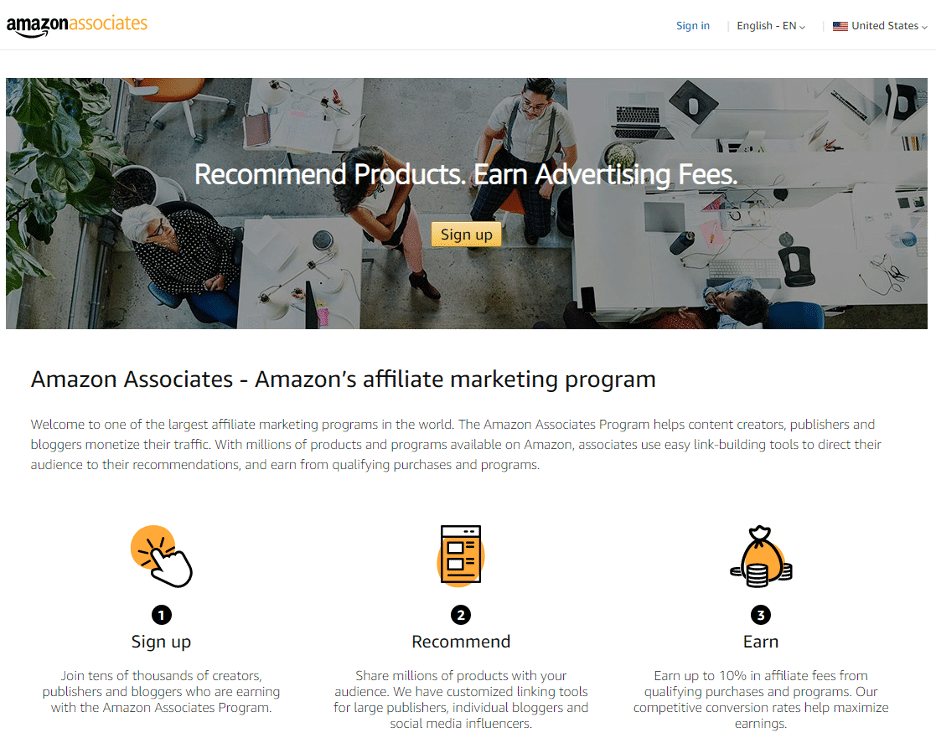 However, there are several other factors, such as conversion rates or the quality of your content and audience, which affect your profits. Hence, we recommend you to continually test and analyze both programs. As an affiliate marketer, it is optimal to determine what's best for your website and not to the general public.
As you may have heard amazon has reduced its affiliate commission around May 2020 by 30-75% in some categories. Pretty sad and frustrating but nothing we can do. It is part of the business.
Summary
All things considered, the Walmart affiliate program can bring you a full-time income. Considering the wide assortment of products and the wide appeal of this online merchant, Walmart's affiliate has a huge potential. Yet, it requires a lot of work.
If you have a well-established website with great traffic, the Walmart affiliate program is the perfect choice for your audience. But, if you are just starting out with affiliate marketing, you may want to consider other websites as well.
In the end, remember that as an affiliate marketer, you can add several websites to your portfolio. Make sure to express your thoughts in the comments section below or share the article if it was useful for you!
Share the Love
If you found this post useful, please let others know about it by sharing it.