Chapter 1
ClickBank Success - Affiliate Marketing Without a Website Udemy
World re-known affiliate marketer, KC Tan shares his secrets methods to success. If you want to succeed in ClickBank and are passionate about making sales, this is a fantastic option for you!
Little or no experience is required before you begin these lessons and there are plenty of interactive exercises, quizzes and readings for every style of learner.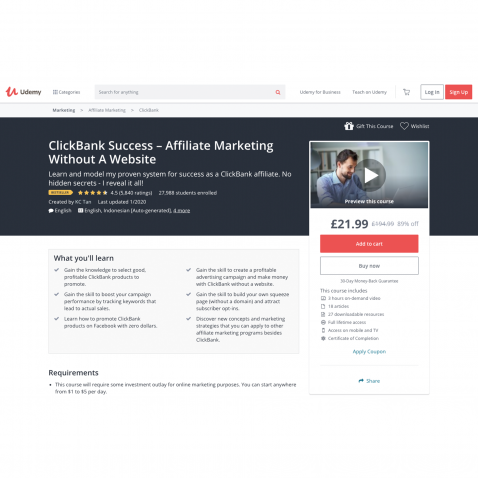 KC Tan has taught over 65,000 students and their testimonies are proof that his teaching style and sale tactics really work!
Included in the course are secret traffic generation strategies which include organic social media, SEO and paid campaigns.
Throughout the course, KC teaches his tried and tested techniques that will boost your confidence and provide you with the skills needed to succeed. By the end of the course, we're confident that you'll be able to put your newly attained concepts to good use and begin marketing!
Pros
Suitable for beginners
KC Tan has a proven track record for training beginners
Includes interactive quizzes, exercises, and readings
Provides new concepts and marketing strategies that can be applied to other affiliate marketing programs
Offers 27 downloadable resources
Cons
Better suited for beginners
Chapter 2
Authority Hacker - The Authority Site System
The best thing about the Authority Hacker courses is that you only have to pay a one-time fee and it's frequently updated, this a refreshing and innovative way to share business knowledge in affiliate marketing.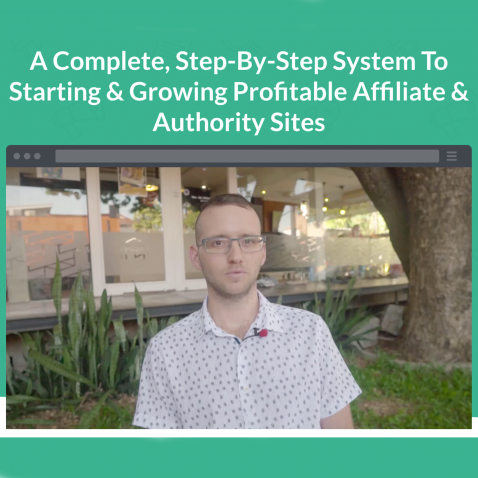 The Authority Site System was set up by Gael Breton and Mark Webster who used to run the well-known Health Ambition blog. They run numerous successful affiliate sites and have a podcast that's popular amongst listeners.
The Authority Hacker is very methodical and nicely laid out for beginners. Authority Hacker offers three different courses;
The Authority Site System
This offers a step-by-step approach on how to start, build and grow your own affiliate site. This course offers all you need to make money at an income replacing level.
Authority Hacker Pro
This course is ideal for established affiliate site owners who already have a website that's making at least $3-5K a month. If you're trying to take your successful site to the next level, this is the right course for you! This course comes in modules that are designed to help site owners tackle specific challenges.
Authority Hacker Pro Platinum
This course is designed for affiliate owners who're making at least $5K a month and are looking to expand their website past simply ranking on Google. This includes additional modules as well as one-to-one mentoring to take your business to the next level.
The content creation and outreach templates are highly valuable and are the exact templates that Mark and Gael have used to generate their top-quality content as well as reach out to bloggers for backlinks.
Pros
Easy step-by-step process
Fantastic tutoring for link building
Perfect for serious marketers
Courses available for all skill levels.
Scalable for multiple sites.
Cons
May be overwhelming for beginners
Not cheap

Fatal error: Uncaught Error: Call to undefined function wpforms_display() in /home/forge/affiliateghost.com/public/wp-content/themes/affiliateghost/includes/partials/guide-article-callout.php:4 Stack trace: #0 /home/forge/affiliateghost.com/public/wp-includes/template.php(732): require() #1 /home/forge/affiliateghost.com/public/wp-includes/template.php(676): load_template() #2 /home/forge/affiliateghost.com/public/wp-includes/general-template.php(204): locate_template() #3 /home/forge/affiliateghost.com/public/wp-content/themes/affiliateghost/includes/partials/guide-article-chapters.php(36): get_template_part() #4 /home/forge/affiliateghost.com/public/wp-includes/template.php(732): require('/home/forge/aff...') #5 /home/forge/affiliateghost.com/public/wp-includes/template.php(676): load_template() #6 /home/forge/affiliateghost.com/public/wp-includes/general-template.php(204): locate_template() #7 /home/forge/affiliateghost.com/public/wp-content/themes/affiliateghost/includes/partials/guide-article-body.php(2): get_templat in /home/forge/affiliateghost.com/public/wp-content/themes/affiliateghost/includes/partials/guide-article-callout.php on line 4