Chapter 1
ClickBank Success - Affiliate Marketing Without a Website Udemy
World re-known affiliate marketer, KC Tan shares his secrets methods to success. If you want to succeed in ClickBank and are passionate about making sales, this is a fantastic option for you!
Little or no experience is required before you begin these lessons and there are plenty of interactive exercises, quizzes and readings for every style of learner.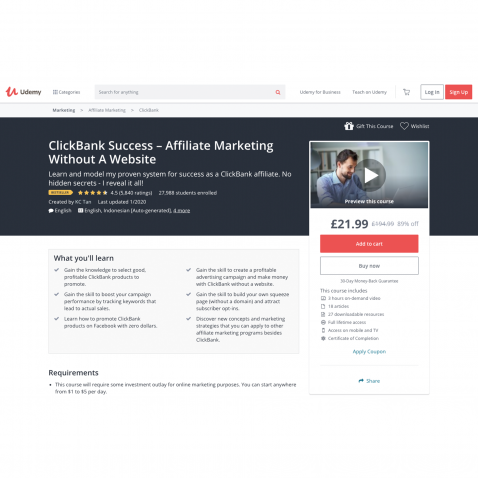 KC Tan has taught over 65,000 students and their testimonies are proof that his teaching style and sale tactics really work!
Included in the course are secret traffic generation strategies which include organic social media, SEO and paid campaigns.
Throughout the course, KC teaches his tried and tested techniques that will boost your confidence and provide you with the skills needed to succeed. By the end of the course, we're confident that you'll be able to put your newly attained concepts to good use and begin marketing!
Pros
Suitable for beginners
KC Tan has a proven track record for training beginners
Includes interactive quizzes, exercises, and readings
Provides new concepts and marketing strategies that can be applied to other affiliate marketing programs for beginners
Offers 27 downloadable resources
Cons
Better suited for beginners
Chapter 2
Authority Hacker - The Authority Site System
The best thing about the Authority Hacker courses is that you only have to pay a one-time fee and it's frequently updated, this a refreshing and innovative way to share business knowledge in affiliate marketing.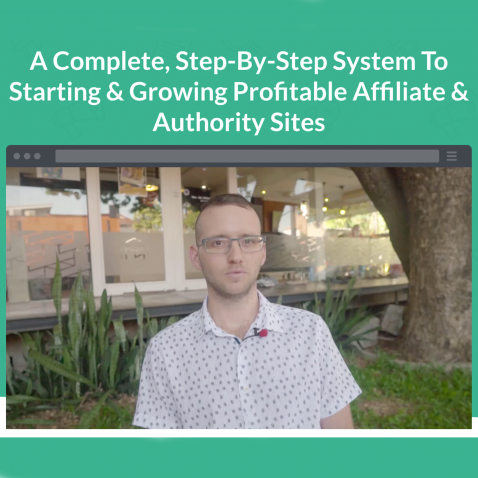 The Authority Site System was set up by Gael Breton and Mark Webster who used to run the well-known Health Ambition blog. They run numerous successful affiliate sites and have a podcast that's popular amongst listeners.
The Authority Hacker is very methodical and nicely laid out for beginners. Authority Hacker offers three different courses;
The Authority Site System
This offers a step-by-step approach on how to start, build and grow your own affiliate site. This course offers all you need to make money at an income replacing level.
Authority Hacker Pro
This course is ideal for established affiliate site owners who already have a website that's making at least $3-5K a month. If you're trying to take your successful site to the next level, this is the right course for you! This course comes in modules that are designed to help site owners tackle specific challenges.
Authority Hacker Pro Platinum
This course is designed for affiliate owners who're making at least $5K a month and are looking to expand their website past simply ranking on Google. This includes additional modules as well as one-to-one mentoring to take your business to the next level.
The content creation and outreach templates are highly valuable and are the exact templates that Mark and Gael have used to generate their top-quality content as well as reach out to bloggers for backlinks.
Pros
Easy step-by-step process
Fantastic tutoring for link building
Perfect for serious marketers
Courses available for all skill levels.
Scalable for multiple sites.
Cons
May be overwhelming for beginners
Not cheap
Chapter 3
Neil Patel's Agency Unlocked 5 Week Course
Neil Patel's course is designed to help your business step-up to the next level by scaling traffic and growing revenue without spending money on any other unnecessary extra marketing. The 5 week course provides one new and simple-to-follow tactic each day. Each new tactic claims to only take a few minutes, delivering results with minimal effort.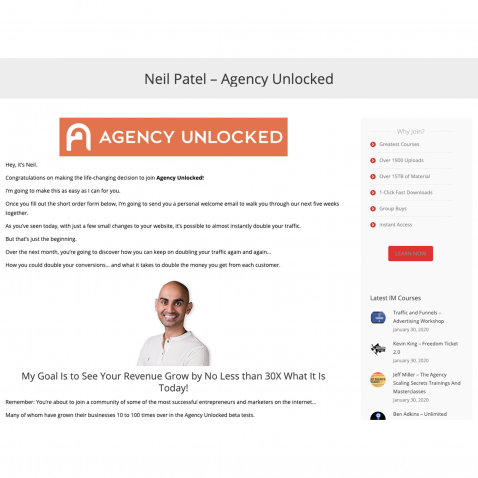 Neil Patel is a familiar face on YouTube, and has a channel that boasts over 500K subscribers! Patel posts at least twice a week on topics such as SEO, Monetization, Instagram, Google, and WordPress.
The course provides access to 5 weeks of training which include;
Traffic Generation
Conversions
Content
Social Media
Paid Advertising
Teardown Week
Alongside the content, you're also paying for access to an established Facebook group where you can communicate with other affiliate marketers who've purchased the course. You'll also have access to live training sessions every 6 weeks and two Q&A sessions a week with one of Neil Patel's coaches.
The first week of the course will focus on seven ways you can grow your traffic without writing a blog post or buying ads. The second week will look at how you can double your customer base without increasing the traffic you already have.
The third week looks at spending an extra 30 minutes per day editing content that can double the traffic to your website and the fourth week will teach you how social media can provide thousands of extra visitors per month.
Finally, in the fifth week, you'll learn how to double your conversion from the same amount of ads while cutting your spending in half. The last week runs through the content you've learned over the last five weeks.
Pros
The training is broken down over five weeks into easy-to-follow steps
Neil Patel is a master salesman with an impressive following
Access to a Facebook group where there have been over 400 posts in the last 30 days
Cons
There's a $1,495 renewal fee
Chapter 4
Best Affiliate Course for Beginners: Income School - Project 24
This is a fantastic resource for beginners on a budget because they won't need to spend any money on extra tools or services.
Most importantly, they provide a complete, digestible guide to growing an affiliate site and how to accomplish it without breaking the bank.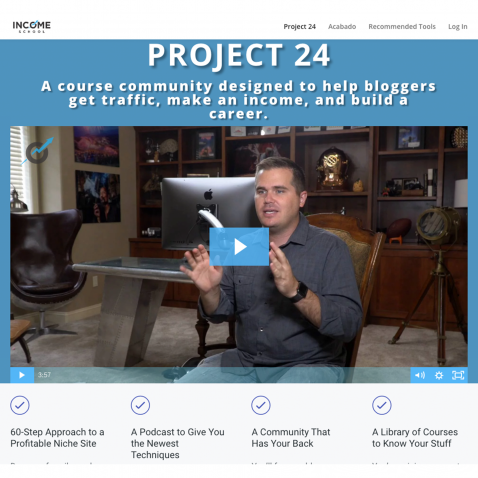 This course focuses less on building backlinks and more on creating highly engaging content that Google and readers will enjoy.
Income School – Project 24 offers the following;
Training
Project 24 offers training that takes you from the basics of setting up a site and easy to follow steps on how to write amazing articles.
Content Creation Outsourcing
Do you find writing difficult? No problem! The Project 24's writer training can provide you with high-quality writers at a low price.
Niche Research
This alone is well worth the course price! Project 24 provides a list of low competition and high-value untapped niches that you can create your websites around.
Active Community
The Project 24 forum is a buzzing digital marketing hub where people interact daily. If you're a newbie, this is the perfect place to ask questions!
Podcast
Project 24 has a podcast that only members can listen to, where the founders, Jim and Ricky spill little secrets that provide an insight into what works.
Pros
Niche research included
Perfect for beginners
Lots of community engagement
Doesn't break the rules of Google
Low price
Cons
No advice on link building
Takes longer to generate income due to sole focus on content creation
Chapter 5
Affiliate Marketing for Beginners: Start Successful Home Business 2020
This course will teach you the strategies to make income replacing money with affiliate marketing, helping you to create a great passive income stream.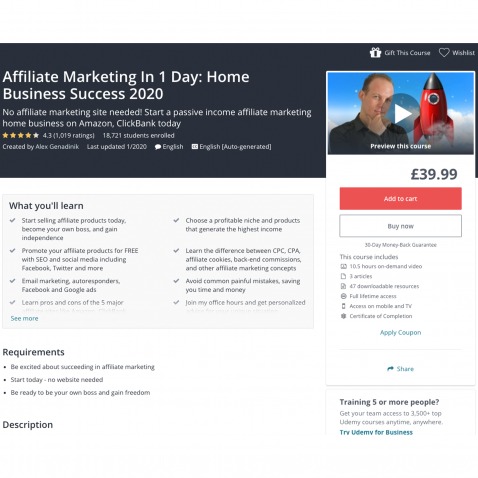 This course, created by Alex Genadinik, strives to teach you how to be your own boss and gain freedom. Genadinik has worked in affiliate marketing for over 10 years, mentoring several new affiliate marketing clients every week.
Through his course, he strives to help others combat common struggles such as difficulty selling products, wasting money running Facebook ads and a lack of sales regardless of large amounts of effort.
This course includes;
Free 15 minute coaching call to discuss affiliate marketing
Downloadable worksheets and exercises to make the course interactive and valuable
Personal invitation to Genadinik's Facebook community after the course is completed
List of business-success skills when the course is completed
Money-back guarantee if you're not successful
This course is perfect for anybody who wants to start a business and help it reach great potential.
Pros
Includes eight helpful forums where visitors discuss affiliate strategies
25 top affiliate WordPress plugins
Free 15 minute coaching call
Money-back guarantee
Learn the pros and cons of 5 major affiliate sites
Advice on how to choose an affiliate niche
Cons
Lots of theory involved, practical minds may struggle with concentration
Chapter 6
Affiliate Marketing for a Living: Complete Blogging Training Level 1, 2 & 3
After working on his own domain since 1995, the instructor, Theo McArthur enjoys helping others learn her life-changing business model techniques. McArthur has created numerous 'authority' blogs to promote affiliate products, therefore she'd perfect for teaching you the tips and tricks that are involved in enhancing your affiliate business.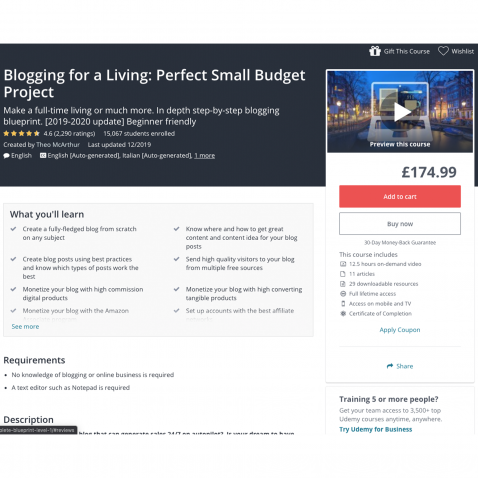 Alongside her selling Amazon affiliate products, she also runs her own e-commerce site. This course will teach you how to create a high-quality blog and source content, imagery and inspire creativity.
You will also learn to monetize your blog with high commission affiliate links and you'll also learn how to set up accounts with the best affiliate networks including Amazon Associate.
This course includes 11.5 hours of on-demand video, 5 articles and 12 supplemental resources as part of the program.
Pros
Provides information on how to create a blog from scratch on any subject
Teaches how to monetize your blog with the Amazon Associate program
Provides insight on how to get great content ideas for your blog
Includes session on email marketing and how to build a list of subscribers
Cons
Only designed for those starting from scratch
It teaches you mainly Amazon affiliate marketing only
Chapter 7
Complete Digital Marketing Course for Affiliate Marketing - 23 Courses in 1
Phil Ebiner and Diego Davilla are the minds behind this Complete Digital Marketing Course for Affiliate Marketing. Affiliate Marketing is impossible without a thorough knowledge of digital marketing, which is exactly what this course provides in 32.5 hours of training.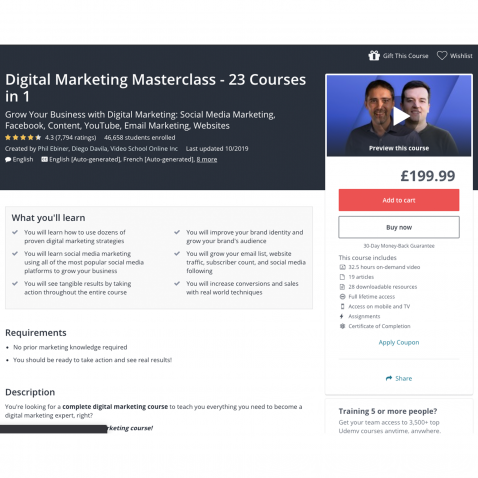 You will learn how to utilize social platforms such as Twitter, Instagram, Facebook, Google Ads, Pinterest, and Quora.
Enrolling in the Complete Digital Marketing Course for Affiliate Marketing will offer you lifetime access to the course and all updates. Additionally, you'll have access to personalized support and answers to your question and a 30-day 100% money-back guarantee!
With over 300,000 students combined in their Udemy course, Ebiner and Davila understand what it takes to coach beginners to learn complicated digital marketing skills. They've combined strategies and techniques that were taught in may of their best selling courses and put them all together with this complete marketing course.
Who is this course for?
Website owners who want to increase web traffic, conversions and sales
Business owners who want to use digital marketing to grow their business
Entrepreneurs, business owners, YouTubers, and social media fans
Pros
30-day money-back guarantee
Lifetime access to course and updates
Personalized support
Suitable for beginners
Downloadable checklists and guides
Cons
The social media section is very basic and caters for absolute beginners
Chapter 8
Affiliate Marketing & SEO Mastery Course - Clickbank, CPA, Amazon
This comprehensive course offers three of the best courses in one package! The equilibrium of practical and theoretical lessons will help you to understand the way that you can make money online without a website.
The course owner, Adam Bosch is a master entrepreneur and digital marketer who has had his own business for over seven years. His knowledge and methodologies across SEO and affiliate marketing has provided him with some important tricks that he believes will help you to grow your business online.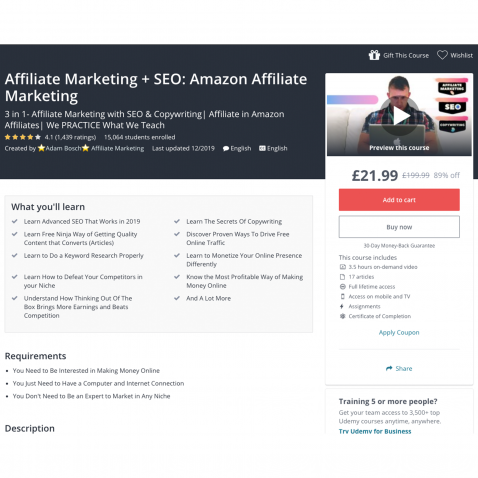 This course is perfect for anybody who has two extra hours a day that they can dedicate to the course and anyone who's considering becoming a creative online marketer.
This course will help you to;
Learn how to think broadly and earn more to beat the competition
Learn proven ways to drive free traffic online and monetize your online presence
Understand how to beat your niche competitors
Navigate the lectures that are divided into relevant sections
Work with premium tools to complete your practical assignments
Pros
Provides access to award-winning licensed and updatable WordPress themes after completion for free.
You don't need to be an expert to market in any niche
New content added every other month
Two Ebooks available
Learn advanced SEO
Cons
Reviewers complain that there's a lot of talk
Summary
If you're new to affiliate marketing, one of the best affiliate marketing courses is undoubtedly one of the three Authority Hacker courses. The great thing about Authority Hacker is that you only pay a one time fee and the course is updated regularly.
Affiliate marketing is an ever evolving industry, therefore it's important to keep expanding your knowledge. This can be easily done by investing one-time-payment in a course that provides updates or you can enrol in numerous courses that specialize in the differing areas of SEO.
Regardless of the course you choose, we wish you the best with your future affiliate marketing endeavours!
Share the Love
If you found this post useful, please let others know about it by sharing it.